Collaborative Document Editing with LiveDocs
Released in beta on December 9, 2022.
Many of our customers asked for a feature that would allow for the collaborative editing of documents. We listened, pondered, reviewed the idea, and planned its implementation. We now have our beta version of this feature in LiveDocs.
What is LiveDocs?
LiveDocs is a new BoardSpace feature that allows users to edit a document collaboratively.
What do you mean by beta version?
Beta means that it is an early release of the feature. It won't be perfect, it won't have all the bells and whistles and it might have a few bugs. Instead of continuing to perfect it, we prefer to launch it and seek feedback from our first users. It will be a better product once users tell us what works and what doesn't work.
How can I get access to LiveDocs?
This feature is an add-on and comes with an additional cost. For our beta launch, we invite interest from our customers to be beta testers. Contact us for more information.
How to use LiveDocs?
Using LiveDocs is simple.
1. From the documents page, click on Create LiveDoc – button at top right of page.
2.  Enter a name for the document.
3. Add tag(s).
4. Click Create
5. A new window opens
6. Start collaborating.
7. Use comments for suggesting comments, additions, or deletions. The suggested change can be added in the comment section.  The document owner can accept or reject the suggested edit.
This icon indicates a LiveDoc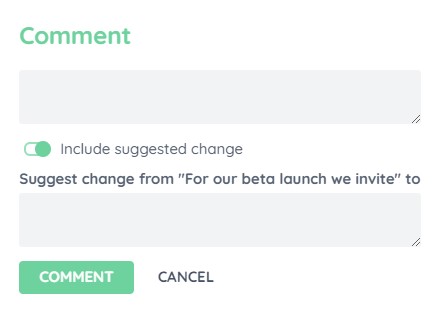 Commenting
On the left is an example of a comment.